Students
ECSEL Student Experience
The ECSEL student experience is designed to support scholars and help them grow throughout their time in the program. It includes a variety of academic and extracurricular activities and focuses on professional and leadership development.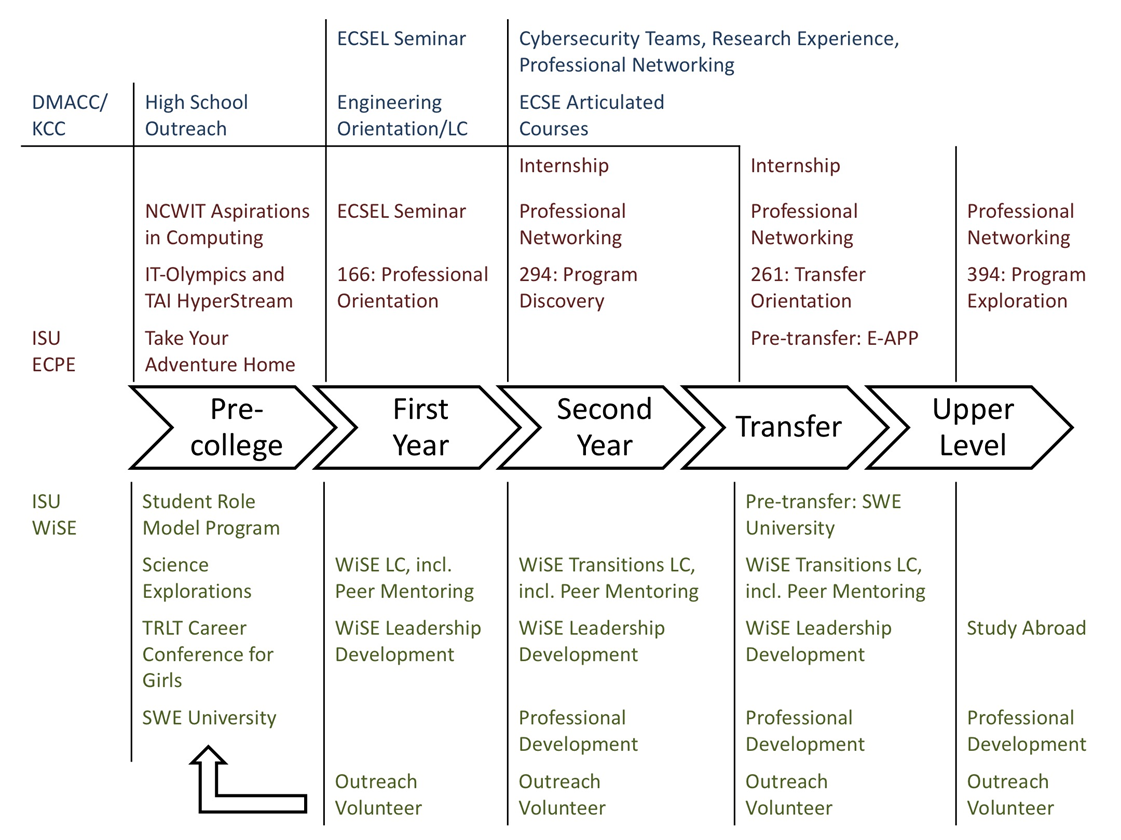 Abbreviations— DMACC: Des Moines Area Community College, KCC: Kirkwood Community College, ECSEL: Electrical, Computer and Software Engineers as Leaders, LC: learning community, ECSE: Electrical, Computer and Software Engineering, ISU: Iowa State University, ECPE: Electrical and Computer Engineering Department, WiSE: Program for Women in Science and Engineering, NCWIT: National Center for Women and Information Technology, TAI: Technology Association of Iowa, E-APP: Engineering Admissions Partnership Program, TRLT: Taking the Road Less Traveled, SWE: Society of Women Engineers
Programming
WiSE Learning Communities
: WiSE LCs offer living and learning opportunities for women majoring in STEM (375 first-year students in FY15). Each WiSE floor is comprised of 22-25 women in STEM majors and is led by a peer mentor. Peer mentors are upper-division STEM students who help first-year students transition to college. Peer mentors play a vital role in the planning and implementation of activities for their mentees and also refer them to applicable campus resources.
ECPE Learning Communities
: ECSE students can participate in the CprE LC or EE LC (as well as the WiSE LC), which provide various academic, social and professional support.
LEAD Learning Communities
: The Leadership through Engineering Academic Diversity (LEAD) Program works to assist multicultural and female undergraduate students succeed academically, professionally, and socially, through programs including the LEAD Learning Community.